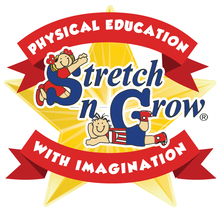 What's a Stretch-n-Grow Fitness Class Like? 
Stretch-n-Grow FUNtastic Fitness is Imaginative, Engaging and FUN!
We warm up to exciting adventure stories that kids love. To get kids moving, we create adventure stories from popular movies or cartoons. Combined with the theme songs that the kids know, we help them use their imagination as we step inside their favorite stories to warm our muscles up for exercise.
During the cardiovascular endurance portion of our class,

we use lots of colorful, skill-specific equipment that enhances both motor skills and coordination. Every child has his or her own equipment so there's no waiting in line – our goal is to keep the kids in continual motion. We focus on skills as a group and give each child the opportunity to excel as an individual.
Resistance training is also a regular part of our program. Our kids learn all of their major muscle groups, and they learn how to use them. Again, fun and imagination is the disguise for hard work and strength building. These exercises are both safe and effective!
Every workout includes a cool down where strength and flexibility are the goals. Children who are more flexible are less likely to become injured in any activity!
Teaching our kids their muscles and functions is a Stretch-n-Grow signature. Even our two year olds know their gluteus maximus!
In addition, all of our exercises are in compliance with the Youth Fitness Guidelines established by the American Fitness and Aerobics Association and American Council on Exercise – the two leading authorities in group fitness today.
One other component that establishes Stretch-N-Grow as a comprehensive wellness program for young children is our curriculum. Our curriculum was developed under the supervision of an advisory board made up of pediatricians, nutritionists and educators. Our weekly lessons highlight important lifestyle issues like fitness, nutrition, and general health topics. Parents also receive our weekly handouts that pertain to raising healthy children – and getting them to eat those veggies!