Stretch-N-Grow is an internationally renowned program designed to promote exercise and wellness for children. Classes are 30 minutes of ACTION PACKED excercitement! It's so convenient-we come to your school (no drive time for you)! Your kids will learn to exercise and learn to love it!!
Staff – OUTSTANDING All Stretch-n-Grow instructors are Certified Youth Fitness Instructors, are continually educated in exercise and nutrition for young children, and are CPR and First Aid Certified. They all meet the guidelines set forth by the Mississippi State Department of Health for childcare workers. Our comprehensive training program is rigorous and on-going in order to maintain the integrity of our program. Dance, Cheer, and Sports instructors each have extensive experience in their fields. Liability insurance is provided for each instructor.
Curriculum Standards – RIGOROUS! Our Youth Fitness Guidelines are in compliance with AFAA (Aerobic & Fitness Association of America), ACE (American Council on Exercise), ACSM (American College of Sports Medicine) and AAP (American Academy of Pediatrics). Our curriculum and exercise glossary are safe, effective, and age-appropriate.
Want to take part in raising healthy happy kids? Join the action and schedule your FREE Stretch-n-Grow demo class today! We are fully insured with classes for Toddlers, Pre-Schoolers, and Schoolers.
Stretch-n-Grow with us because healthy children are happy children!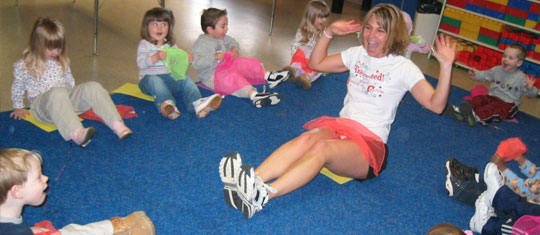 This entry was posted in